Jump to Awards and Honours...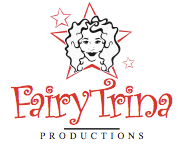 Katrina is a fairy storyteller. She wholeheartedly believes in magic and mystery and that anything is possible. Children are her passion, their amazing imaginations and the possibility to give them a creative and positive start to life, so they can enjoy their future to the full. Life should be full of curiosity, wonder and delight.
She is also an events and workshop coordinator, actress, presenter and voice over artist with more than 20 years' experience in Australia, New Zealand, France, Palestine and Egypt.
She is highly skilled at designing and directing major public events, human resource management, and works with a diverse range of ages and cultures.
FAIRY TRINA PRODUCTIONS was created by Katrina Baylis (Mitchell-Kouttab), and has built up a substantial clientele base:
Wellington City Council
Melbourne City Council
Gasworks Arts Park
Kids Expo
Stonnington Garden Festival and Pets Day
Federation Square
Kingston Arts Centre
Borders Books
Wellington's Summer City
Capital E
Kirkaldie and Stains Christmas Celebrations
Wellington Santa Parade
City of Wellington New Years Eve Celebrations
National Gallery of Victoria
The Royal Melbourne Show
Summer Fun in the Parks Fitzroy Gardens
The Victorian Arts Centre and Gallery
The Immigration Museum
Museum Of City and Sea
Tales of enchantment
Royal Children's Hospital
The Mind, Body and Spirit Festival
The Viva Festival
The Fringe Festival
Winter Wonderland
Bananas in Pyjama's Show
Heron Island Storytelling
Como House
World Environment Day
Wonderwings Fairground
Spell box
Private Parties and Functions
Forest Hill Chase
Frankston Council Summer Events
Darebin and Stonnington Libraries
KMart functions
Artist in Residence at various schools
Fintoner Girls School
Melbourne Girls Grammar School
Lorretto
Geelong Grammar
Hamilton College
St Margaret's College
Marsden College
Island Bay School
Various kindergartens and playgroups

---
AWARDS AND HONOURS:
Kiwibank 'Local Hero Award' - 2013
Received 'Local Hero' medal for contributions to the Wellington Community as part of the 2013 New Zealander of the Year Awards.
Wellington's Best Children's' Entertainer - 2009 and 2010
Annual Dominion Post award
Melbourne's Best Fairy - 2002 and 2003
Annual City Council Award